This layout is temporary, just until I find what I like which will probably take me a while. I don't have Photoshop, but every computer at my school has it, so I'm gonna try to do something when I go back! That's in a month, so hopefully I'll have a semi-permanent layout up right after that.
Here is another from my Go-To Vegetarian Recipe Collection. I remember seeing this recipe and thought it should be a great one. First off, I love bread. And in a soup?! I mean, I eat bread with soup all the time so why not just combine them? I love tomatoes too. Especially when they are fresh and firm and sometimes sprinkled with sugar.
Up until now, I've been making this recipe another way. It reads that I should blend the tomatoes after cooking them until they are mushy. I didn't have access to a blender before, so I just diced the tomatoes into small pieces so that when they are mushy, I can squish them to look as if they had been blended or just eat it. With no blending, the soup has a clear broth with juices from the tomatoes. It was delicious and refreshing.
But since now, I do have access to a wonderful blender (Hamilton Beach Wave Maker!), I decided to follow the original instructions. While the clear broth was refreshing, I always prefer a nice thick, creamy soup. Blending the tomatoes gave this soup just that texture and I loved it. I added one cup less of water so it'll be thicker. This is really my favorite to make when I see tomatoes on sale!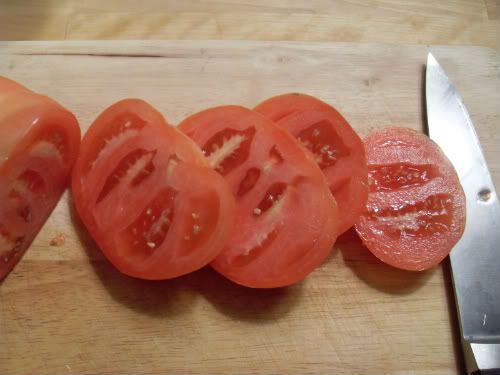 Quality tomatoes are what will make this soup great. The Wegman's around here was having a sale on local Jersey tomatoes so I went for those. These were so easy to cut through and firm and sweet even without the sugar. Tomatoes I've bought from other markets never yield to my knife. For the bread, you can use any kind. I usually use whole wheat sandwich bread, but a nice crusty baguette or even Italian bread would be even better. I promise this is good, especially if you're a tomato fan.
Tomato Bread Soup
[Makes 3 servings]
Adapted from Tasty Palettes
- 1 small onion, chopped
- 1 clove garlic, minced
- Pinch of red pepper flakes
- 1 1/2 lb tomatoes, chopped
- Salt, to taste
- Parsley
- 1 cup water
- 1 bay leaf
- 2 cups bread, cubed
1.
In a saucepan, cook the onion, garlic, and red pepper flakes under tender. Add the chopped tomatoes and salt and cook until mushy.
2.
Take away from heat and throw in a handful of fresh parsley (or dried parsley flakes is what I used). Blend the mixture with an immersion blender or in a regular blender.
3.
Pour back into saucepan and add the water. Bring to a boil. If you want to use the bay leaf, you can add it at this point. I like just a slight taste so I take it out after a minute. Lower heat to medium and add the bread cubes. Let the bread soak the juices and fall apart. Add more water if necessary.
4.
Serve, garnished with grated cheese, black pepper, etc.