When my sister and I were younger, we ate out a lot. We ordered pizza, hoagies, meatball sandwiches, and Chinese take-out very frequently. Although the places we ordered our pizza and hoagies from constantly changed, our Chinese always came from a tiny restaurant called King's Palace. The owner even recognized us and our names because we ordered from there so often. But, of course, we soon began to realize that eating out was costing us way too much and that we should try to be a bit healthier so we stuck with our mom's cooking. Also, after watching
Kitchen Nightmares
with Gordon Ramsay, eating out was soon out of the question.
In other words, I haven't eaten Chinese food in a while. I'd rather skip if my only choice was take-out. But I do miss the taste and I wanted to cook for my family so why not try tackling it at home? Initially, my plan was to make just General Tso's Chicken. I picked it because everyone in my family loves it and I can remember all the way back to when we ordered Chinese food at the mall and that was the only thing we got. (Wow, just thinking back to the past, I can't believe I ate some of the stuff I ate.) Then I started thinking that it probably would not be enough for my parents. Since Korean dinners consist of at least 3 side dishes to the rice in addition to some sort of soup or stew, they might feel like something is missing if I serve just chicken and rice. So I quickly looked up the recipes for Chinese Scallion Pancakes and Egg Drop Soup. No extra shopping needed thankfully. I shall post those later.
Reading through the ingredients for General Tso's Chicken, I realized we have all but two. A lot of the same flavors are used throughout Asia so that was no surprise. I usually would not opt for deep-frying, but I thought it might take away flavor from the dish so I went with it. Actually, I'm a wee bit scared of hot oil so I asked my mom to do that when she got home. From start to finish, making dinner took me about 2 hours. Wow, I was sweating and running around the kitchen. Trying to time things perfectly never works. I'm sure I'll get better as I keep cooking. It was all worth it in the end because my family enjoyed the dinner. I love giving my mom a break from cooking.
General Tso's Chicken
Adapted from My Kitchen SnippetsFor the sauce
- 1 tbsp cornstarch
- 2 tbsp sugar
- 1 1/2 tsp white pepper
- 6 tbsp soy sauce
- 4 tbsp white vinegar
- 3 tbsp cooking wine [I used mirin]
- 1/4 cup water
- 3/4 cup broth
- 6 dried hot peppers, cut into 1/2-inch pieces
- 2 cloves garlic, sliced thinly
- 1 tbsp minced ginger
- 4 scallions, sliced thinly
For the chicken
- 2 lb chicken, cut into 1-inch pieces
- 4 tbsp soy sauce
- 1 1/2 tsp white pepper
- 1 egg, beaten
- 4 tbsp cornstarch
1.
In a medium bowl, place the chicken, soy sauce, and white pepper and mix to coat evenly. Let the chicken marinate for 30 minutes.
2.
To prepare the sauce, mix together the cornstarch, white pepper, soy sauce, vinegar, cooking wine, water and broth in a small bowl. Set aside until ready to use.
3.
After 30 minutes, add the egg to the bowl with the chicken and stir to coat chicken evenly. Then add the cornstarch and stir again. Now the chicken is ready to be fried. Deep-fry about 4 to 5 minutes and the coat is golden brown.
4.
In a saucepan, heat a bit of oil on medium-high heat. Add the dried peppers, garlic, and ginger. Cook until fragrant. Add the prepared sauce and bring to a boil. Cook until thickened. Add the fried chicken and toss so that the sauce coats all chicken pieces. Add the scallions.
No need to eat unhealthy Chinese take-out anymore. I felt less guilty eating this homemade recipe and a lot less oily afterward! But it still tastes like the General Tso's you'd get at a restaurant. I've never fried something coated in cornstarch before, but I really like it. It leaves a thin layer and looks a lot cleaner than if I had used flour. The chicken wasn't crispy enough though. I'll have to ask Mom to fry it a bit longer next time or I could face my fears and do it myself! Eventually. Oh, and the picture is pretty horrible, eh? People were getting hungry so I needed to take one quickly.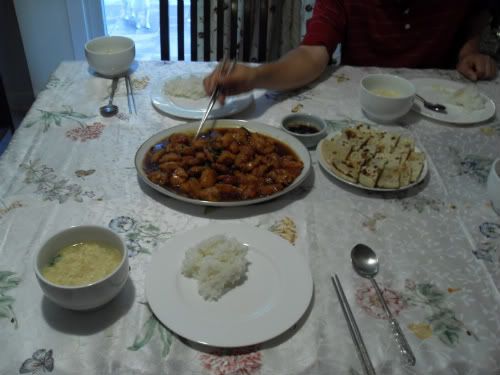 See? :P