Amongst my roommates, I am the only one that seems to use scallions. I buy a bag at Wal-Mart and am never able to finish the whole thing before they start to go bad. I feel awful throwing it away so I try to come up with ways to use it up fast. Whenever I have stir-fry, which was quite often last year, I would sprinkle some on top. Still a lot left! I considered making Pajeon, Korean scallion pancakes, but it would involve calling my mom and getting the recipe. I don't think I was in the mood for that. I instead turned to Chinese Scallion Pancakes. Other times, I bought Pillsbury's crescent dough and sprinkled chopped scallions on them before rolling it up and baking them! Just as good.
Chinese Scallion Pancakes
From Delish Food
- 2 1/2 cups flour
- 3/4 cup boiling water
- 1 bunch of scallions, chopped
1.
Mix flour and water until they come together to form a dough ball. Let it rest for 30 minutes in a bowl covered with a damp towel.
2.
Form a flattened dome with the dough ball. Cut into 6 equal parts. Roll out part into a circle as thinly as you can. Brush a bit of oil on top of the pancake and then sprinkle on salt and 1 or 2 tablespoons of chopped scallions evenly.
3.
Roll the pancake from one side to the other and form into a spiral, pinching ends together. Then flatten it out into a circle about 1/8" inch thick. Repeat with the remaining 5 parts of dough.
4.
Heat a tablespoon of oil on skillet over medium heat. Set pancake in skillet and fry until bottom is crispy and golden. Flip to fry the other side. Remove from heat and serve immediately or reheat in the oven. Repeat with rest of the pancakes.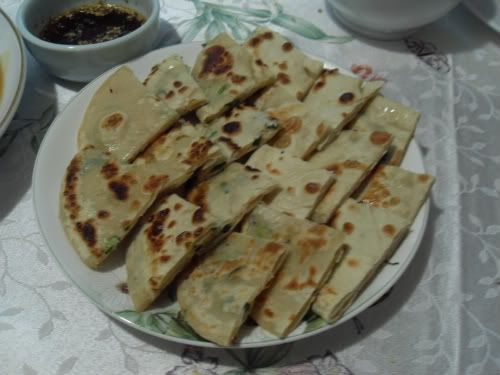 I made these two nights ago on Sunday to accompany my General Tso's Chicken. I tried to be healthier and used less oil to fry these, but I think that was a bad choice. I even kinda burnt a few because I was all over the kitchen trying to finish that dinner on time. You can serve it with any dipping sauce that you wish. My family has a favorite that we use for everything. My mom never measures anything, so I found
this recipe
on Recipezaar if you are interested.